Posted by: EmergencyLights Admin on Wed, Sep 04, 2019

Large emergency generators require a deep cycle battery to supply a high cranking voltage. Normal SLA batteries and automotive batteries do not have enough capacity to start these engines.
WHAT ARE DEEP CYCLE BATTERIES?
While heavier and less efficient than nickel cadmium and lithium batteries, sealed lead acid batteries are still widely used in emergency lighting applications due to their high capacity. These battery cases are somewhat similar to a car battery, using liquid battery acid to store electricity.
But unlike automotive batteries, which are designed to give a short burst when starting a vehicle, deep cycle batteries supply a much larger dose of electrical power for a much longer duration.
YOU CAN FIND DEEP CYCLE BATTERIES IN ALL KINDS OF APPLICATIONS WHERE CONTINUOUS BATTERY POWER IS A MUST, SUCH AS:
Recreational vehicles

Some ATV's

Boats

Golf carts

Solar cell battery bank
In the emergency lighting world, deep cycle batteries play an important part in keeping us safe. They are commonly found in emergency lighting inverters and as well as starting emergency generators, which require a large cranking voltage to get the combustible engine going. A normal car battery would not have enough capacity for either application.
Depending on the manufacturer's specifications, a deep-cycle battery operates optimally when it discharges 45 -75 percent of its capacity. Many of these can be discharged as much as 80% before requiring recharging. 

All emergency lights and exit signs use backup battery packs to provide a minimum of 90 minutes of power when the primary source of electricity is cut. These batteries come in two flavors: nickel cadmium (Ni-Cd) or sealed lead acid. It is important to match the battery type, voltage, and amper...
Read More →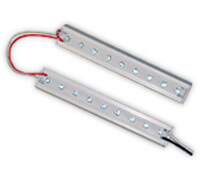 Q:  With regard to the Red LED Exit Sign Retrofit Kit: What are the dimensions in inches of these strips? I want to fit it into 8x8 housing. 
Our Red LED Exit Sign Retrofit Kit (277 Volt) will fit in any exit sign housing where an incandescent or fluo...
Read More →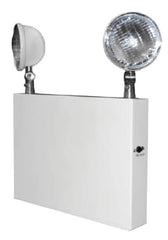 It happens.
We're talking about that moment when you're not sure if your Chicago rated Wet Location Emergency Light is broken or just tired. 
It's time for that monthly test and one or more of the bug-eyed bulbs just w...
Read More →

Different emergency lights use different types of bulbs. Depending on the intended environment, there may be a better choice for the particular lighting solution.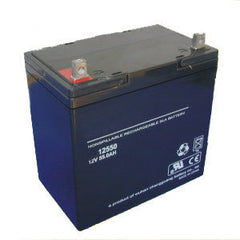 As you know, all emergency lighting products require an internal power source to work during electrical failure. However, with the case of a Sealed Lead Acid unit, what's the best way to recharge once normal power has been restored.
When charging (or re-charging) y...
Read More →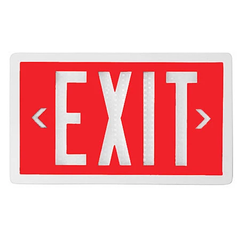 WHY DOESN'T MY BATTERY OPERATED EXIT SIGN WORK?
Self-luminous exit signs are the most common crossovers for custo...
Read More →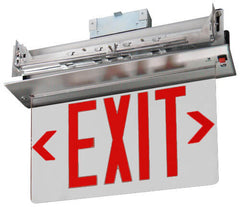 The regulations for emergency lights in New York City are unlike those of any other city. Units here are much tougher and put out more light than typical fixtures. To complicate things further, each borough in the city has their own individual codes for the amount of illumination re...
Read More →