Posted by: EmergencyLights Admin on Wed, Sep 18, 2019
Exit signs have been proven to save lives in the past. Keeping a cool head and going out the nearest emergency exit can be a lifesaving maneuver. It is accomplished a lot easier with the help of an exit sign. They are so useful that they have been deemed mandatory in any facility. More than that, there are strict regulations as to what constitutes a proper exit sign and what does not. This is an area where the most efficient product is heavily recommended and, in most cases, than involves getting an LED exit sign. They are cheap, effective and fully compliant with all safety codes and regulations.
DEFINING EXIT ROUTES:
OSHA defines exit routes as starting from any point within the workplace to a place of safety in the case of emergency. This includes: all access routes to exits, the exits themselves, and the exit discharge or walkway outside the building from the exit door to a public way or other safe area.
All the exit signs offered through our online store are UL 934 Listed and compliant for the United States. Models begin at less than $20.
REQUIREMENTS FOR EXIT SIGN DESIGN:
Exit signs must have the word "EXIT" in clearly readable letters that are at least six inches high and a stroke width (width of the lines of the letter) of at least 3/4 inch. Signs and lettering must be of a distinctive color, providing a high contrast between the letters and the background. New York City and Chicago have specific exit sign regulations pertaining to lettering size, construction materials, and power source.
Most exit signs require electricity and utilize LEDs (Light Emitting Diodes) as the source of illumination. Electrical exit signs are required to feature a battery backup system that operates the sign for a minimum 90 minutes during a power outage.
ADVANTAGES OF LED EXIT SIGNS
There have been instances of improvised exit signs, which are usually just printed out on a sheet of paper. These are unacceptable because of their lack of visibility. In order for an exit sign to be efficient it must be visible during emergencies such as a fire, which is one of the most common reasons that call for an evacuation. The first exit signs that used incandescent light bulbs had the problem of not being visible during a fire, so there is no chance that a sheet of paper with the word EXIT printed on it will do any better. An LED exit sign is the best solution here as it is very powerful, but does not consume a lot of energy.
LED EXIT SIGN ILLUMINATION
Another important criteria point for a valid exit sign is illumination. Again dealing with the issue of visibility, any safety code compliant exit sign must have a source of illumination. In almost all cases, this comes from a source built inside of the sign. It started out with incandescent light bulbs, but these were replaced with LEDs as soon as possible because they are better. The fact that they require a lot less power means that they can also be powered by a small backup battery which can be installed in the sign itself in case of a power failure.
Accuracy is also an issue with some exit signs. Some of these signs, especially those with a pictogram depicting a running man instead of the word EXIT, will also have an arrow pointing in the proper direction of the emergency exit. Extra attention needs to be taken when purchasing and installing the sign in order to make sure that it does indeed point in the right way, otherwise it would not only be useless, but it could potentially lead people into dead ends.
If a power source is not available, self-luminous exit signs may be used in the place of electrically illuminated signs, as long as they have a minimum luminance surface value of at least .06 foot-lamberts. Self-luminous exit signs glow regardless of power by using tritium, a glowing type of hydrogen gas.
VIEW OUR SELECTION OF SELF-LUMINOUS EXIT SIGNS
Photoluminescent (glow in the dark) exit signs are another type of non-electrical exit sign. Photoluminescent exit signs require light to be available on the face of the sign so that the glow in the dark pigment can properly charge and be ready to glow in dark conditions. These signs must be illuminated to a surface value of at least five foot-candles or 54 lux by a fluorescent, halogen, incandescent, or gas vapor light source. They must also meet the minimum luminance surface value of at least .06 foot-lamberts. On top of their regulations within a building, they must also be desposed of properly. 
Glow In The Dark Exit Signs are easy to install and last up to 25 years. A great choice if electricity is not available. UL Listed.
All lettering on exit signs must be of a fire-retardant material. These must be renewed as often as necessary to maintain their visibility and fire-retardant capability.
Exit signs may be combined with an emergency lighting fixture, creating a combo emergency exit sign. A combination unit fulfills both two requirements, that of an exit sign and of an emergency light fixture. In these cases, a larger battery must be used to insure that the emergency exit combo will remain lit for the full 90 minutes, even with the added current draw of the emergency light.
PLACEMENT OF EXIT SIGNS:
Each personnel exit must be clearly marked with an exit sign as stated above. Additionally, if the exit route from a particular work area is not immediately apparent, signs must be posted along the route, indicating the direction of travel to the exit.
If there are doorways or passages along an exit route that do not lead to an exit, and could be mistaken for an exit, they must be clearly marked "Not an Exit" or marked with a sign designating a purpose for that area which clearly indicates that it is not an exit.
Exit signs must be placed where they are clearly visible, with a clear line of site from any work area. No decorations, curtains, or other signs may be placed where they will even partially impede visibility of exit signs.
SPECIAL REGULATIONS EXIST FOR NEW YORK CITY, CHICAGO AND LOS ANGELES:
If your facility is in New York City the letters on your exit signs must be red in color and the sign must be constructed from metal, such as steel or aluminum. Letters for NYC approved exit signs are at least eight inches high and one inch wide, as opposed to the standard lettering height of six inches. Both New York and Chicago only allow electrical exit signs, photoluminescent and self-luminous models are not accepted.
Chicago exit sign regulations are even more stringent; each model must be evaluated and approved by the City of Chicago. Standard box style exit signs are required to have a glass exit panel that is white with red letters. Edge-Lit exit signs are the only type of Chicago approved exit sign that is not required to have a glass panel as it can pose a safety hazard if broken. Edge-Lit exit signs feature acrylic panels.
VIEW OUR SELECTION OF CHICAGO APPROVED EXIT SIGNS
Additionally, there may be a change in the minimum luminosity requirements in these cities. Check with your local building inspection office to be sure you have the latest information before buying your lighting.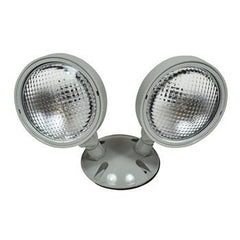 When planning an emergency lighting scheme, one thing that should never be forgotten is the installation of remote heads. These units are essentially the same heads that are included on an emergency lighting unit, except they are mounted on a base for single or dual installation, away fr...
Read More →

All emergency lights are not created equal. Standard thermoplastic fixtures are appropriate for everyday office use, while explosion proof emergency lights are built to operate in environments containing flammable gas, vapor, or dust. There is an emergency light for almost every type of facili...
Read More →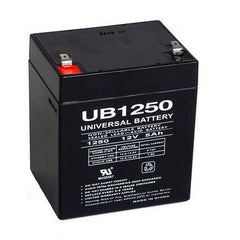 Emergency Light Circuit Boards
If the 'heart' of an Emergency Light is the battery then the circuit board must be its 'brain'. Each Emergency Light is equipped with a small circuit board that controls its various functions, which include:...
Read More →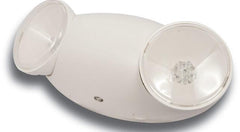 Emergency lights operate at 4, 6 or 12 volts DC (direct current), depending upon the particular light design. However, the electricity we receive through electrical outlet is 120 volts AC (alternating current). To change one to the other requires the use of a transformer. This means that all ... Read More →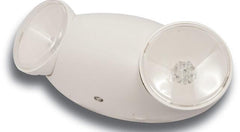 EMERGENCY LIGHT VOLTAGES AND VOLTAGE DROP CALCULATIONS
The most common voltage for emergency lights is 6 VDC. This means that the power coming from the building's electrical system must be dropped down from 120 volts and converted to DC current. The main reason for this is that nobody...
Read More →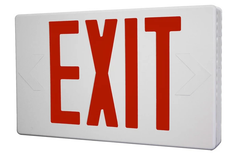 Underwriters Laboratories (UL) is a world renowned independent product safety certification organization. UL was established in 1894 and the company is headquartered in Northbrook, IL. Underwriters Laboratories creates standards and testing procedures for all types of products, components, ass...
Read More →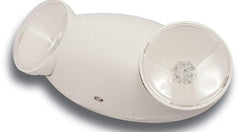 EMERGENCY LIGHT VOLTAGES SUMMARY
AC/DC isn't just a hard-rock band from Australia, it is the two worlds that make up all electronic circuitry. Emergency Lights run off an Alternating Current (AC) of 120 VAC supplied the building they are installed to. However the unit does not run on ...
Read More →