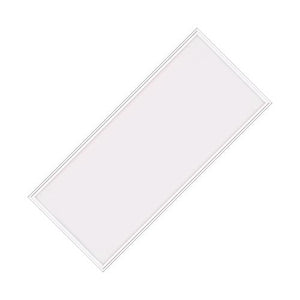 2X4 LED PANEL - 50-70 WATT - 3000K, 3500K, 4000K, & 5000K
The ultra-thin, edge-lit LED panel (LEDPNL) series is designed to deliver general ambient lighting in a variety of indoor settings, including schools, offices, hospitals and stores, and is the perfect choice for both new construction and retrofits. This high-efficacy luminaire provides long-life and uniform illumination, as well as standard 0-10 VDC dimming capability.
▪
Available in 3000k (warm white), 3500k (warm/neutral white), 4000k (neutral white) & 5000k (cool white) color temperatures.*
▪
Long-life LEDs provide 96,000 hours of operation with at least 70% of initial lumen output (L70).**
▪
LEDPNL2X4-50W provides 5,274 luminaire lumens (105 lumens per watt, LPW)  at 3000k, 5,342 luminaire lumens (107 LPW) at 3500k, 5,410 luminaire lumens (108 LPW) at        4000k, and 5,546 luminaire lumens (111 LPW) at 5000k.*
▪
LEDPNL2X4-70W provides 7,556 luminaire lumens (106 LPW) at 3000k, 7,650 luminaire lumens (108 LPW) at 3500k, 7,743 luminaire lumens (109 LPW) at 4000k, and 7,930        luminaire lumens (112 LPW) at 5000k.*
▪
Uniform illumination with no visible LED pixelation.
▪
Universal 120-277 AC voltage (50-60Hz) is standard.
▪
0-10vdc dimming capability is standard.
▪
Total harmonic distortion < 20%.
▪
Color rendering index > 80.
▪
PMMA (polymethyl methacrylate) light guide panels for optimal light distribution, efficiency, and longevity.
▪
Easy installation in new construction or retrofit.
▪
Standard earthquake clips provide secure installation in grid ceilings.
▪
Standard mounting options include recessed mounting in grid ceilings, or suspended mounting using attached hanging brackets.  For mounting in plaster or other hard ceilings, see Mounting Kits.