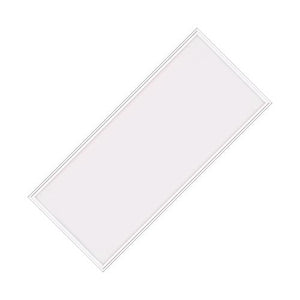 2X4 PREMIUM LED PANEL - 35 WATT - 3000K, 3500K, 4000K, & 5000K
The premium-performance, ultra-thin, edge-lit LED panel 
(LEDPNL2X4-PRM-CP) series offers industry-leading lumens per watt (LPW). This family of luminaires is designed to deliver general ambient lighting in a variety of indoor settings, including schools, offices, hospitals, and stores, and is the perfect choice for both new construction and retrofits. This high-efficacy luminaire provides long-life and uniform illumination, as well as standard 0-10 VDC dimming capability.
▪ Available in 3000k (warm white), 3500k (warm/neutral white) 4000k (neutral white) & 5000k (cool white) color temperatures.*
▪ Long-life LEDs provide 199,000 hours of operation with at least 70% of initial lumen output (L70).**
▪ Provides 4,508 luminaire lumens (129 lumens per watt, LPW) at 3000k, 4,590 luminaire lumens (131 LPW) at 3500k; 4,672 luminaire lumens (133 LPW) at 4000k, and 4,836 luminaire lumens (138 LPW) at 5000k.*
▪

Uniform illumination with no visible LED pixelation.
▪

Universal 120-277 AC voltage (50-60Hz) is standard.
▪

0-10vdc dimming capability is standard.
▪

Power factor > 0.90.
▪

Total harmonic distortion < 20%.
▪

Color rendering index > 80.
▪

Aluminum housing.
▪

Acrylic lens with light guide panels for optimal light distribution and efficiency.
▪

Easy installation in new construction or retrofit.
▪

Standard earthquake clips provide secure installation in grid ceilings.
▪

Standard mounting options include recessed mounting in grid ceilings, or suspended mounting using attached hanging brackets. For mounting in plaster or other hard ceilings, see Mounting Kits.