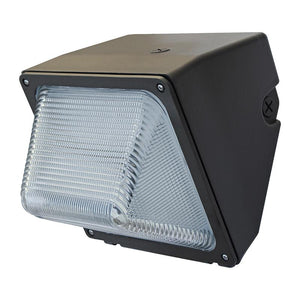 LED WALL PACK 30-120 WATTS 4000K & 5000K
Description
LED WALL PACK 30,60,80,120 WATTS 4000K & 5000K - The LEDWP30-120W is a rugged, durable LED wall pack, which is perfect for outdoor perimeter and area lighting. With a die cast aluminum housing and a vandal resistant, borosilicate glass lens, the LEDWP30W will stand up to many years of punishing environmental conditions. High-efficacy, long-life LEDs provide both energy and maintenance cost savings compared to traditional, HID wall packs.
▪ Available in 4000k (neutral white) and 5000k (cool white) color temperatures.*
▪ Long-life LEDs provide 69,000 hours of operation with at least 70% of initial lumen output (L70).**
▪ Choose from 2,747 lumens and 95 lumens per watt (LPW) at 4000k, or 2,801 lumens and 97 LPW at 5000k.*
▪ Uniform illumination with no visible LED pixilation.
▪ Universal 100-277 AC voltage (50-60Hz) is standard.
▪ Power factor > 0.90.
▪ Total harmonic distortion < 20%.
▪ Color rendering index > 80.
▪ Die cast aluminum housing with durable, dark bronze, powder coat paint.
▪ Tempered, borosilicate glass lens with seamless, silicone gasket to prevent leaks.
▪ Easy installation in new construction or retrofit.