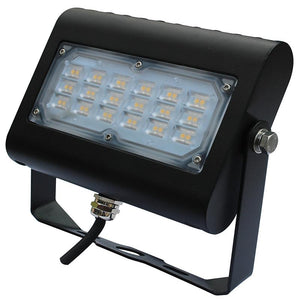 MULTI-PURPOSE LED AREA LIGHT 30 WATTS 3000K, 4000K, & 5000K
DESCRIPTION
MULTI-PURPOSE LED AREA LIGHT 30 WATTS 3000K, 4000K, & 5000K - The LEDMPAL series is a group of architectural LED area luminaires designed to illuminate parking areas, pathways, building facades, loading docks, and a wide variety of other large, general site lighting applications. Multiple mounting options make the LEDMPAL a versatile luminaire for flood lighting, pole-, ground- and wall-mounted area lighting, and other outdoor lighting requirements.
▪
Available in 3000k (warm white), 4000K (neutral white) and 5000K (cool white).*
▪
Long-life LEDs provide 69,000 hours of operation with at least 70% of initial lumen output (L70).**
▪
Delivers 3,453 lumens & 115 lumens per watt (LPW) at 3000k; 3,586 lumens and 120 LPW at 4000k; and 3,718 lumens & 124 LPW at 5000k.*
▪
Standard optic provides an IES roadway type V distribution, or a 7V (vertical) x 7H (horizontal) NEMA floodlight distribution.
▪
Universal 120-277 AC voltage (50-60Hz) is standard.
▪
Total harmonic distortion < 20%.
▪
Color rendering index > 80.
▪
Optional glare shields (full & half) & wire guards are available.
▪
Die cast aluminum housing with durable, dark bronze powder coat finish, and a heat-resistant polycarbonate lens.
▪
Wireway enclosure is sealed with a water-tight, silicon rubber gasket.
▪
Effective projected areas (EPA's) are: Front = 0.09 square feet, Side  = 0.07 square feet, Face = 0.29 square feet
▪
Easy installation in new construction or retrofit applications.
Shields & Wire Guards
(Order Separately) 
BST-MPAL30-FGS = Full Glare Shield, 15W
BST-MPAL30-HGS = Half Glare Shield, 15W
BST-MPAL30-WG = Wire Guard, 15W