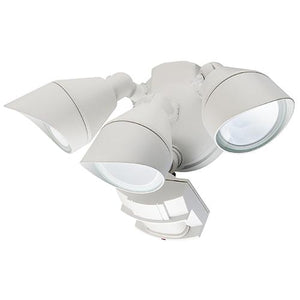 Triple Head LED Outdoor Security Luminaires
Description
The LEDOSEC series is an economical group of outdoor security luminaires. Models are available with either one, two or three heads, and with either built-in photocells or combination motion sensors and photocells. With a high-strength, cast aluminum housing and a high-quality, UV-resistant glass diffuser, the LEDOSEC is a versatile and durable outdoor luminaire. High-efficacy, long-life LEDs provide both energy and maintenance cost savings compared to traditional outdoor security luminaires.
▪
Available in 4000k (neutral white) and 5000k (cool white) color temperatures.*
▪
Long-life LEDs provide 53,000 hours of operation with at least 70% of initial lumen output (L70).**
▪
Models with one head provide 1,064 to 1,069 lumens and 89 lumens per watt (LPW).*
▪
Models with two heads provide 2,041 to 2,089 lumens and 82 to 84 LPW.*
▪
Models with three heads provide 3,105 to 3,135 lumens and 86 to 87 LPW.*
▪
Operates on 120 AC voltage (60Hz).
▪
Color rendering index > 80.
▪
Die cast aluminum housing with durable, powder coat paint.
▪
Glass lens is sealed and gasketed to prevent leaks.
▪
Easy installation in new construction or retrofit.