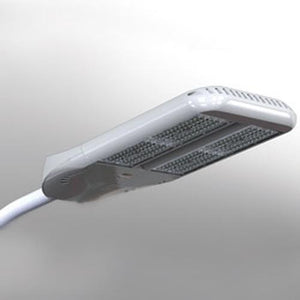 300W LED Roadway Light
Overview
Designed with energy efficiency in mind, the 300W LED roadway light is a Dark Sky and RoHS approved street light that fastens to most mast arms between 1-1/4" and 2". It has an attractive, thermally optimized die cast aluminum housing that is fully gasket sealed to protect the internal components.
Our 300W LED roadway lights are given a corrosion resistant powder coating finish available in grey, black or architectural bronze finish. The 300W LED street light connects to mast arms with a 4-bolt mounting assembly. The incredibly efficient LED engines and holistic thermal dissipation keeps the lamps burning up to 100,000 hours.  
Purchase the DRB2 by calling us directly at 800-839-4734. If you need a detailed question answered or to generate a quote, just email our production staff.
Key Features
Lumen Output Range - 18,660-28,000
Color Temperature - 4000K, 5000K
LED panel rated for 100,000 hours of use!
CRI - 70(400k)
Dark Sky Compliant
5 year warranty
Photocontrol receptacle comes standard
Electrical Specification
Multi-tap - 120/208/240/277VAC
Mounting
1-1/4" to 2" mast arm
2-bolt mounting anchors
Compliance
RoHS Certified - no harmful chemicals
Dark Sky Approved - creates no light pollution
IDA Approved - 3G Vibration rating
ETL Listed for Wet Locations
Options
Custom Finish - select grey (standard) black or bronze powder coating finish.