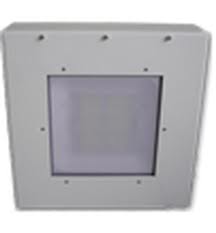 91W LED Canopy Light
Overview
Our 91W LED canopy lights are an energy-efficient and green canopy light alternative. They are designed for surface mounting in single-deck canopies in such varied locations as gas stations, retail store entries and soffit areas. The LCN1-096 has a formed aluminum housing in a square shape and has an attractive white polyester powder coat finish that protects it from outside corrosion.
The 91W LED canopy light features an aluminum door with swing and lift removal for lightweight housing installation. The internal optical chamber is sealed with a die formed silicone gasket and held together by a stainless steel frame that houses the polycarbonate lens. All units are photometrically tested by independent testing laboratories using industry-recognized LM-79 & LM-80 documents for LED lighting.
Order the LCN1-096 online or call us toll-free at 800-839-4734 to discuss other factory options. For questions or to obtain a quote or documentation, please email our production staff.
Key Features
Uses 96 LEDs in an even grid
Color Temperature - 5000K
CRI - 70(400k)
Operating Temp - -40° to 122° F
CSA Listed for Wet Locations
RoHS compliant green technology
Electrical Specification
Multi-Volt - 120/208/240/277VAC
Compliance
RoHS Certified - no harmful chemicals
IDA Approved - Dark Sky Luminaire
CE and CSA Listed for Wet Locations
ISO 9001 Quality Assurance
LEDs tested to IESNA LM-79 and LM-80 standards 
Options
Nominal Color Temperature - select standard cool white 5000K (CW), neutral 4100K (NW) or warm white 3000K (WW).