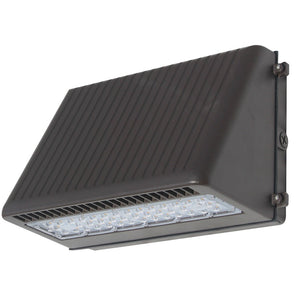 LED FULL-CUTOFF WALL PACK 50 WATTS 4000K & 5000K
LED FULL-CUTOFF WALL PACK 50 WATTS 4000K & 5000K - The LEDWPFC Series is a rugged, durable LED wall pack that provides full cutoff (i.e., zero uplight and low glare at high angles). It is perfect for outdoor perimeter and area lighting, especially in settings required dark-sky compliance. With a die cast aluminum housing and a polycarbonate lens, the LEDWPFC Series will stand up to many years of punishing environmental conditions. High-efficacy, long-life LEDs provide both energy and maintenance cost savings compared to traditional, HID wall packs.
▪ Available in 4000k (neutral white) and 5000k (cool white) color temperatures.*
▪ Long-life LEDs provide 76,000 hours of operation with at least 70% of initial lumen output (L70).**
▪ LEDWPJ50 provides 5,656 lumens and 120 lumens per watt (LPW) at 4000k, or 5,798 lumens and 123 LPW at 5000k.*
▪ LEDWPJ80 provides 8,789 lumens and 113 LPW at 4000k, or 9,128 lumens and 117 LPW at 5000k.*
▪ Full cutoff (zero lumens above the 90, horizontal plane, and low glare in the 80 to 90 plane). BUG uplight rating is U0.
▪ Uniform illumination with no visible LED pixilation.
▪ Universal 120-277 AC voltage (50-60Hz) is standard.
▪ 0-10vdc dimming capability is standard on LEDWPJ80.
▪ Power factor > 0.90.
▪ Total harmonic distortion < 20%.
▪ Color rendering index > 80.
▪ Die cast aluminum housing with durable, dark bronze, powder coat paint.
▪ Polycarbonate lens with seamless, silicone gasket to prevent leaks.
▪ Easy installation in new construction or retrofit.