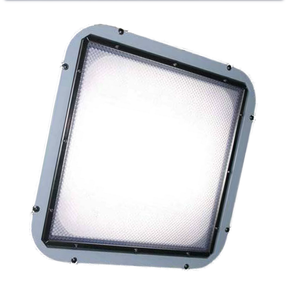 40W LED Soffit Luminaire
Overview
The LSF1 Series 40W LED soffit luminaire has a die cast aluminum housing that is given a white polyester powder coat that protects it from corrosion in wet and damp locations. LSF1-036 has a clear prismatic micro-lens that is coupled to a stainless steel lens frame. The entire lens assembly is gasket sealed, preventing the intrusion of water or moisture.
Our 40W soffit luminaries can be flush-mounted to most non-insulated (plenum) ceilings for an almost zero-profile look. They use an internal LED light engine and rear heat radiating fins to keep the LEDs burning for up to 60,000 hours.
To get the LSF1-036 for your business, call us toll-free at 800-839-4734. For further inquiries or to obtain a quote or spec sheet, just email our production staff.
Key Features
LEDs and light engine last up to 60,000 hrs!
Color Temperature - 3500K, 4100K, 5000K
CRI - 70(400k)
Full cutoff design is Dark Sky Compliant
CSA Listed for Wet Locations
RoHS compliant green technology
Electrical Specification
Multi-Volt - 120/208/240/277VAC
Compliance
RoHS Certified - no harmful chemicals
IDA Approved - Dark Sky Luminaire
CE and CSA Listed for Wet Locations
ISO 9001 Quality Assurance
LEDs tested to IESNA LM-79 and LM-80 standards 
Options
Nominal Color Temperature - select standard cool white 5000K (CW), neutral 4100K (NW) or warm white 3500K (WW).