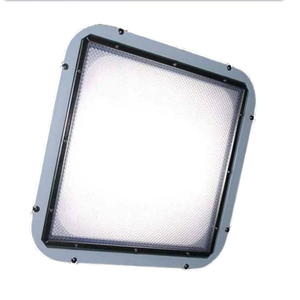 72W LED Soffit Luminaire
Overview
Our 72W LED soffit luminaires are the brightest soffit lights in the LSF1 series. They are constructed with a robust cast aluminum housing given a white polyester powder coating finish that protects it from corrosion in wet outdoor locations. LSF1-084s have a clear prismatic micro-lens coupled to a stainless steel lens frame. 
The 68W soffit luminaries can be mounted flush to most non-insulated (plenum) ceilings and have a very low-profile look. The whole unit is gasket-sealed to prevent water from affecting the internal components. This unit has an internal LED light engine and heat radiating fins to keep the LEDs burning bright for up to 60,000 hours.
Buy the LSF1-084 for your business today! Order online or call us anytime 24/7 at 800-839-4734. You may also email our production staffto obtain a quote or product spec sheet.
Key Features
LEDs last up to 60,000 hrs!
Color Temperature - 3500K, 4100K, 5000K
CRI - 70(400k)
Dark Sky Compliant
CSA Listed for Wet Locations
RoHS compliant green technology
Electrical Specification
Multi-Volt - 120/208/240/277VAC
Compliance
RoHS Certified - no harmful chemicals
IDA Approved - Dark Sky Luminaire
CE and CSA Listed for Wet Locations
ISO 9001 Quality Assurance
LEDs tested to IESNA LM-79 and LM-80 standards 
Options
Nominal Color Temperature - select standard cool white 5000K (CW), neutral 4100K (NW) or warm white 3500K (WW).