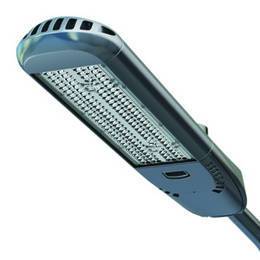 150W LED Roadway Light
Overview
The 150W LED roadway light features a viable design that was constructed in both die-cast and extruded aluminum and has fast become a favorite in recent years due to its durability and energy savings. The LSR4 unit produces a robust 100,000 hours of continuous use thanks to its holistic thermal design, which efficiently redirects heat from its LED bulbs. 
Our 150W LED roadway lights fit standard 1-1/4" to 2" mast arms which are found on most street posts. It uses recycled and recyclable corrosion resistant materials and has a premium grade aluminum alloy housing which is gasketed to prevent the water leaks.
The underdriving LEDs improve the overall efficiency of the system's life and the fixture's full cutoff optics qualify it as a Dark Sky Compliant roadway light.
Great for campuses, city and residential streets, parking lots, and roadways. 
Order your LSR4 today! Just give us a call, and speak to our roadway light pros at 800-839-4734. For further inquiries or to generate an invoice/bulk order quote, just email our sales staff.
Key Features
Lumen Output Range - 9,285–13,890
Color Temperature - 4000K, 5000K
CRI - 70 (4000k) and 65 (5000k)
Dark Sky Compliant
Photocontrol Occupancy Sensor is standard
5 year warranty
Finish available in Grey, Black or Bronze
Electrical Specification
Mounting
1-1/4" to 2" mast arm
2-bolt fitting
Compliance
RoHS Certified
UL Listed for Wet Locations
CUL Listed for Canada
IDA Approved - 3G Vibration Rating
Dark Sky Compliant
DesignLights Consortium