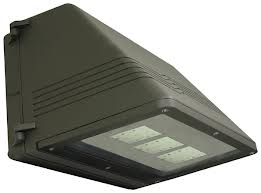 45W Full Cutoff LED Wall Pack
Overview
Our 45W full cutoff LED wall packs emit brilliant light in a weather-resistant aluminum housing. They will last over five years under harsh weather conditions. 
The LED modules inside the waterproof housing use only 45W of AC electricity. A reflector maximizes the illumination spread.  Light emitting diodes are long-lasting, and have an engine that leaves almost no carbon footprint.
Unlike HID lights, the MLLWP-40LED wallpack uses no harmful elements like lead, mercury or cadmium in their construction. This makes disposal of spent diode's and expired units easy to dispose of, and are commonly recycled into the next generation of wall pack units.
Key Features
LED modules (included) use only 45W of electricity at all times
Meets full cutoff requirements of the IESNA
ETL Listed for wet locations across the U.S.
Replaces up to 175-watt metal halide
RoHS compliant
Evaluated in accordance with LM-79 and LM-80 documents
5-year warranty
Buy America Certificate 
Applications
These large aluminum wall packs attach to any 3" or 4" junction box. They can also be mounted to most wall surfaces, drawing power through 1/2" NPT conduit terminals. Great outdoor luminaries for stadium seating, outdoor smoking areas and light industrial warehouses.
All of our LED models are approved by RoHS (Restriction of Hazardous Substances). Only electronic devices that are free of lead, cadmium, mercury and other dangerous, carcinogenic materials can be deemed RoHS compliant. This certification is applicable in the U.S., Canada and the EU. 
External Specification
A high impact glass lens covers the LED module inside. The housing is made from die-cast aluminum with a sleek architectural bronze powder coating finish for the upmost protection against corrosion.
A hinged access face for easy access to the bulbs, drivers, capacitors and circuits. A sloped design allows for easy runoff of rain, snow and ice.
Internal Specification
The 45 watt LED lighting modules are rated to last over 50,000 hours of continuous use. LED lighting engine and drivers are mounted to an aluminum heat sink plate to optimize thermal management. Heat dissipation from the module ensures it will last for the prescribed 50,000 hours.
Electrical Specification
The unit will operate at a range of 120-277V, 50/60Hz
Auto-ranging voltage controlled circuit
Two (2) wire input
Options
Photocontrol Photocell - Sensor detects sunrise and sunset and automatically activates the light accordingly. Select 'PC1' for 120V photocontrol. Select 'PC2' for 208-277V photocontrol.
Transient Protection System - Select this option for surge protection up to 10,000 amps. It uses a 3-leaded device to protect line-ground, line-neutral and neutral-grounds.