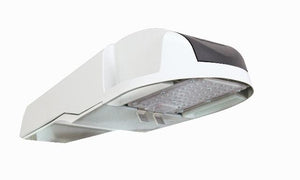 55W LED Cobrahead Roadway Light
Overview
Are you looking for a street light fixture that combines modern design with the power to match 150-watt metal halide or HPS lamps? Then, you should consider our 55W LED cobrahead roadway light.
The RMS-55W model, is an environmentally-friendly luminaire that is not only qualifies as RoHS Certified, but also has an ETL Listed roadway lighting option that produces almost no harmful chemicals. 
Constructed with die cast aluminum housing, our 55W LED cobrahead roadway lights have a full-cutoff design, making them Dark Sky Compliant. The housing comes with a grey, black or bronze powder coat finish that is corrosion-resistant.  
This unit also uses a Type III optical distribution polycarbonate lens that completely isolates the LED array and drivers from outside weather. 
It was designed to be installed into existing HID furnishings by replicating the form of traditional flat glass cobraheads while providing energy savings in excess of 50%
To get the RMS-35W , please call the roadway light pros at 800-839-4734. For more detailed inquiries or to generate a quote, just email our sales staff.
Key Features
Lumen Output Range - 2862-6289
Color Temperature - 4000K, 5000K
LED panel rated for 100,000 hours of use!
CRI - 70(400k)
Dark Sky Compliant
5 year warranty
Photocontrol receptacle is standard
Electrical Specification
Multi-tap - 120/208/240/277VAC
Mounting
1-1/4" to 2" mast arm
2-bolt mounting anchors
Compliance
RoHS Certified - no harmful chemicals
Dark Sky Approved - creates no light pollution
IDA Approved - 3G Vibration rating
ETL Listed for Wet Locations
Options
Custom Finish - select grey (standard) black or bronze powder coating finish.