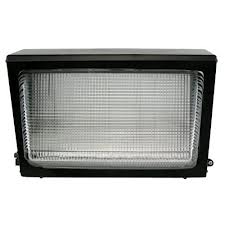 26W CFL Wall Pack
Overview
Our 26W compact fluorescent wall packs fall into our medium-range aluminum fixture category and are resistant to corrosion, vandalism and cold weather.
The CFL lamp inside the unit's water-tight housing can be swapped with a number of bulb wattages. A reflector angles the fixture's light cone for maximum illumination. The housing can sustain a significant amount of abuse from human vandalism and wet weather.
Compared to generic incandescent lamps that put out the same amount of light, CFLs use only a third of the electric power, yet last up to fifteen times longer!
Key Features
CFLs use only 26W of AC electricity
May be used as emergency lights when ordered with the optional EM ballast
UL Listed for wet locations across the U.S.
Can survive temperatures as low as -4° F
Evaluated in accordance with LM-79 and LM-80 documents
2-year warranty
Buy America Certificate 
Applications
The CFL-26 model's medium build allows it to be placed in nearly any outdoor environment including walkways, underpasses and loading docks. They are employed in a number of commercial, industrial and residential buildings across the country.
These units can be mounted to any 3" or 4" junction box. An AC line may also be connected via 1/2" NPS conduit terminals, allowing the unit to be surface mounted to nearly any type of wall should a j-box be unavailable 
External Specification
These wall packs are constructed with a robust, die-cast aluminum casing and powder-coated with an architectural bronze finish. A heat-resistant borosilicate refractor covers the lamps inside. Stainless steel screws and gaskets seal the unit completely from outside moisture.
They feature a hinged design that allows for easy maintenance of the internal components.
Internal Specification
These wall packs have a 4-pin triple tube CFL bulb that screws into a GX24-q3 base with an electronic programmed start ballast. The ballast can survive temperatures as low as -4°F.
An anodized aluminum reflector at the rear of the CFL projects and intensifies the light for further amplification.
Electrical Specification
This unit can toggle between 2 wire inputs:
Double-tap for 120/277 VAC
Multi-tap for 120/208/240/277 VAC
Options
Photocontrol Photocell - Sensor detects sunrise and sunset and automatically activates the light accordingly. Select 'PC1' for 120V photocontrol. Select 'PC2' for 208-277V photocontrol.
Full Cutoff Shield - Narrows the wall pack's beam into a focused spot on the ground and prevents light from trespassing into other property or into the sky. Adding this feature will make your unit Dark Sky compliant.
Wireguard - Further protection against vandalism.
Polycarbonate guard - a clear shell that encases the entire unit, adding further protection against the elements.
Emergency Ballast - selecting the 'EM' option allows your wall pack to become an emergency light during a power failure. We suggest you order this option over the phone at 800-839-4734.