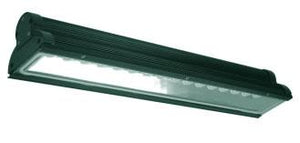 32W LED Wallwasher
Overview
The 32W LED wallwasher light is a slim lighting solution that UV resistant with powder coating to protect against difficult elements such as harsh weather. Built in die-cast aluminum the unit is suitable for indoor or outdoor use.
Our 32W LED wallwasher lights are waterproofed by being completely sealed and gasketed and operates from 120-277V 50/60Hz with two wire imput. It is also designed for maximum heat dissipation.
Are you interested in purchasing? Then give our representatives a call anytime at 800-839-4734!. You may also obtain a quote or invoice by emailing our sales staff.
Key Features
Can be used as either wallwash or overhead linear lighting
UL Listed for wet locations
Long LED lamp life which lower maintence costs
Electrical Specification
Mounting
Options
Please call 800-839-4734 to ensure option availability.
Photocontrol Photocell - automatically switches the unit on when the ambient light reaches a certain level during sunset. 
U-Bracket Mount (2 pieces per set)
Cable Mount Eyelets (2 pieces per set) 
Custom Color
Transient Protection System