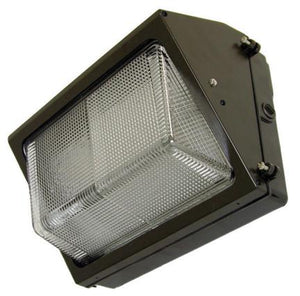 Metal Halide Wall Pack
Overview
Our metal halide wall pack lighting units have a simple yet durable architectural look that can be flush mounted to nearly any exterior wall surface. They are fully sealed with dense rubber gaskets at every gap to prevent humid weather, heavy rain or snow from affecting the internal electronics.
Metal halide is a popular type of HID (High Intensity Discharge) lamp that produces light by an electric arc through a gaseous mixture of vaporized mercury and metal halides. They provide twice the luminous efficacy of mercury vapor and 3 to 5 times that of LED fixtures.
Wall pack lights are ideal for retail stores, parking lots, factories and warehouses, or anywhere you require a lot of light in a lot of space.
Features
Bronze powder coated finish protects against all-weather conditions
Die-cast enclosure can handle moderate abuse
BD17 type lamps available in 50 to 100 watt ranges
Optional photocell allows for night use and emergency functionality
Mounts to most vertical surfaces and j-boxes
Two year standard warranty
Application
Metal halide wall packs mount to any 3" or 4" junction box. If not available, however, you can still attach these units to most vertical surfaces, running house power through the provided 1/2" NPS conduit entry junctures at the sides and top of the unit.
External Specifications
These wall pack fixtures are constructed with a die-cast aluminum that has been powder coated for further corrosion resistance. Housing is coupled with a high-impact, heat-resistant brosilicate glass lens that protects the lamps. 
The internal electronics can be easily accessed via a side-hinged front cover and the entire unit is sealed with gaskets to prevent water from entering the housing. All screws and fastening hardware are made of corrosion resistant stainless steel.
Internal Specifications
BD17 metal halide lamps use a medium base, glazed porcelain socket pulse rated at 4KV. An anodized aluminum reflector at the rear of the housing evenly distributes the powerful HID light.
A special ballast converts the building's DC power into an efficient AC current that keeps the bulbs at a minimum operating temperature while providing the rated amount of foot candles.
Electrical Specifications
Operates on 120, 277, 347 and 480 VAC
50/60Hz with an auto-ranging voltage controlled circuit
Two (2) wire input
Minimum operating temperature of -30° C (-22° F)
Single, double and multi-tap ballasts are available
Code Compliance
UL Listed for Wet Locations
RoHS compliant
Buy America-approved fixture, made with pride in the USA
Options
Photocontrol (Option: PC1 or PC2) - detects the availability of sunlight. Once ambient light has fallen to a certain lumen, the PC add-on automatically switches on the light. PC1 option is for 120V installations; PC2 for 208-277V operations.
Wireguard - provides further vandal protection.