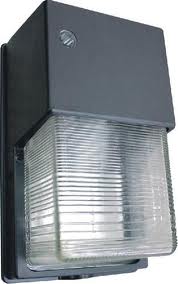 70W Mini HPS Wall Pack
Overview
Our 70W mini HPS wall packs are polycarbonate fixtures that project brilliant illumination in the roughest weather, in temperatures as low as -22° F! Gasketed enclosures prevent the intrusion of rain, humidity, snow and ice. 
Similar to gas discharge lamps found in street lighting, the B17 high-pressure sodium vapor (HPS) lamp contains sodium in an excited state which creates a bright arc when electrified. HPS gives off white light and has a broader spectrum than than low-pressure street lamps, which tend to have an unappealing yellow glow.
The 70W HPS mini wall pack emits less light pollution than mercury-vapor models, making them the preferred high-intensity luminaries in many districts. HPS bulbs have a shelf-life of 20,000 hours of continuous use.
Key Features
70 watt high pressure sodium lamp included
UL Listed for Wet Locations
Can withstand cold temperatures as low as -22° F
2-year warranty
Buy America Certificate 
Applications
70 watt mini HPS wall packs are compact, economical models that are a great choice for lighting narrow passageways, walkways and outdoor stairwells. They are also an inexpensive alternative for augmenting larger outdoor luminaries.
These mini polycarbonate wall packs are completely sealed to prevent water or damp weather from corroding the electronic components inside. 
External Specification
HPS-70s are constructed with a rust-proof, polycarbonate enclosure with an architectural bronze finish. A UV balanced polycarbonate prismatic refractor protects the HPS lamps inside. Stainless steel fasteners and rubber gaskets seal the unit completely from outside moisture. 
1/2" conduit entry points at the bottom for allow for surface mounting to any vertical surface. 1/2" NPT  conduit points in back facilitate attachment to any 4" j-box.
Internal Specification
The B17 70W tube fits into a 4KV glazed porcelain socket. The produced light is directed and amplified by an internal anodized aluminum reflector.
An R-NPF ballast converts incoming AC power into a safe voltage applicable to high pressure sodium tubes while regulating any sudden overloads. A 120VAC 'PC1' photo control sensor comes standard with this model and will automatically activate the light when sunset is detected.
Electrical Specification
These lights operate on a double-tap wire input of 120/277 VAC.
Options
Photocontrol Photocell - Sensor detects sunrise and sunset and automatically activates the light accordingly. Select 'PC1' for 120V photocontrol. Select 'PC2' for 208-277V photocontrol.