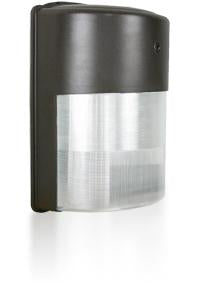 20W LED Wall Pack
Overview
Our 20W LED wall packs are decorative mini-fixtures that are resistant to corrosion, vandalism and cold weather.
The LED module inside the waterproof housing consumes only 20W of electricity. A reflector angles the fixture's light cone for maximum illumination. The housing is completely sealed to lock out moisture and water common in outdoor areas.
These lighting fixtures are RoHS compliant, meaning they have been tested for the presence of lead, cadmium, mercury and other harmful chemicals. This makes LED units the safest wallpack design for humans and the environment.
Key Features
LEDs use only 20W of AC electricity
UL Listed for wet locations across the U.S.
Can survive temperatures as low as -22° F
RoHS compliant
Evaluated in accordance with LM-79 and LM-80 documents
5-year warranty
Buy America Certificate 
Applications
Because of their small size, these mini wall packs can be placed in narrow walkways, underpasses and loading docks. Because the TLED-105 has such a sleek appearance, it is also a good light for apartments and private residences.
They can be mounted to any wall surface or 3"-4" junction box. 
External Specification
These units have a polycarbonate semi-cylindrical housing face that fastens to a die-cast aluminum backplate. A gasket seals the space between the two housings, which prevents the intrusion of water caused by rain and humidity.
The LED module is protected by an outer polycarbonate, UV stabilized prismatic refractor.
Internal Specification
The 20 watt LED module provides much brighter illumination than those found in 20 watt incandescent bulbs. An LED light engine powers the constant current control driver. The drivers are mounted directly to an aluminum heat sink that dissipates the heat generated by the module, pushing the lamp's lifetime to 50,000 hours.
LEDs produce extremely low ultra-violet rays and create very little heat. A 'PC1' photo control cell is factory installed, which detects sunrise and sunset, toggling the unit on and off accordingly.
Electrical Specification
Operates at a a range of 120-277V, 50/60Hz
Low LED thermal junction (Tj) supports long life and low lumen depreciation
Auto-ranging voltage controlled circuit
Two (2) wire input
Warranty
5-year warranty
Options
Photocontrol Photocell -  Select 'PC2' for 208-277V photocontrol.
Transient Protection System - Select this option for surge protection up to 10,000 amps. It uses a 3-leaded device to protect line-ground, line-neutral and neutral-grounds.