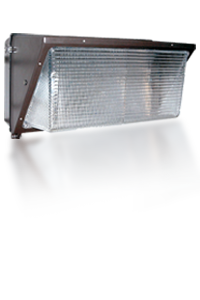 250W Large HPS Wall Pack
Overview
Th 250W large HPS wall pack produces brilliant light in conditions as low as -22° F. Units will typically last up to 5 years of continuous use.
B17 high-pressure sodium vapor bulbs, like those found in street lights, are a type of gas discharge lamp that uses sodium in an excited state to generate light. Unlike low-pressure lamps found in street lighting, however, HPS has a broader spectrum that eliminates the ugly yellow glow common to LPS.
Our 250W large HPS wall packs produce far less light pollution than mercury-vapor models, making them the preferred luminary in many cities. HPS bulbs will last about 20,000 hours of continuous use before they needing to be swapped-out.
Key Features
UL Listed for wet locations across the United States
Can withstand cold weather as low as -22° F
2-year warranty
Buy America Certificate
Applications
250 watt large HPS wallpacks fall into our category of large wallpack designs, so it is a great choice for light industrial, parking areas, entranceways and rooftops.
This aluminum wall pack is completely sealed in order to precent the intrusion of water, moisture and ice.
External Specification
The HPS-250 is constructed with a durable, die-cast aluminum casing that is powder coated with an architectural bronze finish. A semi-clear borosilicate refractor covers the lamps inside. Stainless steel screws and gaskets seal off the unit from outside moisture. 
These light fixtures have 1/2" conduit entry points at the bottom for surface mounts and conduit points in back for attachment to any 4" j-box.
Internal Specification
The B17 250W tube locks into a 4KV glazed porcelain socket. The light produced is directed and amplified by a rear-mounted anodized aluminum reflector. A CWA type ballast converts incoming AC power into a voltage applicable to the HPS tube and regulates any sudden overloads.
Electrical Specification
Can toggle between 2 wire inputs:
DoUSA e-tap for 120/277 VAC
Multi-tap for 120/208/240/277 VAC
Warranty
2-year warranty
Options
Photocontrol Photocell - Sensor detects sunrise and sunset and automatically activates the light accordingly. Select 'PC1' for 120V photocontrol. Select 'PC2' for 208-277V photocontrol.
Full Cutoff Shield - Narrows the wall pack's beam into a focused spot on the ground and prevents light from trespassing into other property or into the sky.
Wireguard - Further protection against vandalism.
Polycarbonate guard - a clear shell that encases the entire unit, adding further protection against the elements.