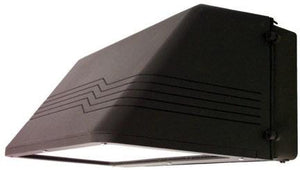 42W CFL Wall Pack
Overview
Wall packs are the perfect outdoor lighting fixture. They install to almost any wall surface, can survive harsh rain and snow and endure temperatures well into the minuses. However, if a power failure occurs, wallpack safety lighting can become nonfunctional, requiring separate battery backup lights.
Our large architectural, full cutoff 42W compact fluorescent wall packs are typical in that they deliver bright, energy efficient light drawn from normal AC power. If the power goes out, however, these units will continue to provide light via an optional backup ballast independent of the building's electricity.
Because CFL bulbs draw very little power, a backup ballast can keep these outdoor units lighting for over 90 minutes. This is the minimum amount of time deemed by OSHA and other organizations to safely evacuate a building. Substituting your emergency lights with CFL luminaries will drastically reduce your initial lighting costs. And because you will need fewer lights, you'll continue to save during installation and routine maintenance.
Key Features
Includes a 4-pin triple tube lamp
Can accommodate lamps between 26 and 84 watts
Emergency light capable
UL Listed for wet locations across the U.S.
Can withstand cold temperatures as low as -5° F
2-year warranty
Dark Sky compliant
Buy America Certified 
Applications
42W CFL wall packs are the perfect mid-range choice for exterior building walkways, break areas and staircases. You'll commonly encounter these sleek aluminum fixtures in churches, apartment complexes, hotel pool areas and museum exteriors.
Just remember that our TL110-CF-42 wall fixtures do not come factory-installed with emergency ballasts. If you require this popular add-on, make sure you select this option upon checkout or mention it when ordering over the phone.
External Specification
TL110-CF-42s have a  large, heavy-duty die-cast aluminum housing. A tempered glass lens protects the CF lamps inside and has a high tolerance to impact and heat, making them a perfect vandal proof luminary. A rubber gasket lining and stainless steel fasteners lend these units their waterproof-capability.
A hinged design allows for easy access to the lamps, capacitors, ballast and circuitry. They can be wired to any 4" junction box or you can install them to most any vertical surface using 1/2" waterproof NPT conduits.
Internal Specification
The 42 watt, 4-pin triple tube CFLs are secured to a GX24-q3 base inside the waterproof housing. An electronic programmed 'instant start' ballast, which is the most efficient type of ballast available for fluorescent lighting.
An anodized aluminum reflector sits between the bulbs and the rest of the internal components. The reflector focuses and intensifies the CFL beyond it's already broad reach.
Electrical Specification
The TL110-CF-42 features a double-tap wire input rated for 120/277VAC. This voltage rating is universal throughout North America and the European Union.
Options
Photocontrol Photocell - Sensor detects sunrise and sunset and automatically activates the light accordingly. Select 'PC1' for 120V photocontrol. Select 'PC2' for 208-277V photocontrol.
Wireguard - Offers further protection against vandalism.
Polycarbonate guard - a clear shell that encases the entire unit, adding further protection against the elements.
2nd AC Ballast - for two (2) lamp wallpacks.
Emergency Ballast (EM) - Select this option to give your wall pack emergency lighting capabilities. A backup battery will maintain the unit for at least 90 minutes.