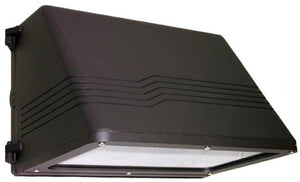 84W CFL Wall Pack
Overview
84W CFL wall packs are small architectural, full cutoff luminaries that consume very little power when connected to normal AC electricity. Their small electrical load makes CFL units ideal for emergency lighting as well, allowing CFL-84s to stay lit even during a power failure.
Compact fluorescent lamps (CFL) are quickly replacing incandescent bulbs in all lighting applications. Besides their energy saving design, CFLs last longer, light more and run cooler than incandescent lamps.
Many of our customers like to substitute their outdoor and wet location emergency lights with CFL wall packs that have the emergency backup option installed. Doing this slashes the price of your initial purchase and will continue to save you money down the line in maintenance and energy costs.
Key Features
(2) 4-pin triple tube 42 watt lamps included
Can accommodate lamps between 26 and 84 watts
Emergency light capable
UL Listed for wet locations across the U.S.
Can withstand cold temperatures as low as -5° F
2-year warranty
Full cutoff design is Dark Sky compliant
Buy America Certified 
Applications
84 watt CFL wall packs can be surface mounted to most any vertical wall surface, with AC power fed through 1/2" waterproof NPT conduits. They can also be installed to any 3" or 4" junction box. These lights are typically found in walkways, loading docks and subway stations.
If you wish to illuminate the superstructure of your building, the CF-84 may be inverted so that the unit points up instead of down. Because the lens will be directly exposed to the elements in this configuration, their waterproof capability is demoted to only a damp location rating.
External Specification
84W CFL wallpacks have a die-cast aluminum housing powder coated with a bronze finish for the upmost corrosive protection. A tempered glass lens protects the CF lamps inside and has a high tolerance to impact and heat, making them resistant to vandalism. A rubber gasket lining and stainless steel fasteners complete the unit's waterproof-capabilities.
The housing has a sloped top to provide efficient runoff of rain and snow. The downward facing lens prevents stray light from trespassing into other property or into the sky. This 'full cutoff' design prevents light pollution, giving these luminaries Dark Sky compliant.
Internal Specification
The 42 watt, 4-pin triple tube CFLs are secured to a GX24-q3 base inside the aluminum housing. These fixtures use an electronic programmed 'instant start' ballast, which are the most efficient engine available for fluorescent lighting. An anodized aluminum reflector focusses the light into a tight, solid beam.
Electrical Specification
The CF-84 has a double-tap wire input rated for universal 120 and 277VAC settings. This voltage is standard throughout North America and the European Union.
Options
Photocontrol Photocell - Sensor detects sunrise and sunset and automatically activates the light accordingly. Select 'PC1' for 120V photocontrol. Select 'PC2' for 208-277V photocontrol.
Wireguard - Offers further protection against vandalism.
Polycarbonate guard - a clear shell that encases the entire unit, adding further protection against the elements.
2nd AC Ballast - for two (2) lamp wallpacks.
Emergency Ballast (EM) - Select this option to give your wall pack emergency lighting capabilities. A backup battery will maintain the unit for at least 90 minutes.