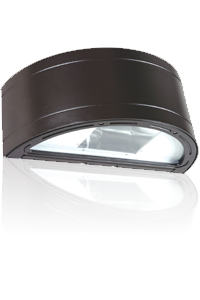 WP111 Series Half Moon Full Cutoff Wall Pack
The half moon full cutoff architectural wall pack has a solid, gasket-sealed design that makes it a completely waterproof fixture and is UL Listed for Wet Locations. The WP111 has a half-circle profile that flush mounts to a wall for a very low profile look. The housing is die cast aluminum with a  corrosion-resisting bronze powder coated finish.
This architectural wallpack has a full cutoff design which prevents light pollution and qualifies it as a Dark Sky compliant fixture. A hardened tempered glass lens at the bottom protects the lamp, socket and ballast within. 
Our half moon full cutoff architectural wall packs can mount directly to a wall surface with recessed wiring, or directly to a 4" j-box. The WP111 accepts CFL, metal halide or HPS type lamps and ballasts. It can be used as an emergency light for up to 90 minutes when 'Emergency Ballast' option is selected (CFL only).
UL Listed for Wet Locations
Dark Sky Compliant full cutoff design
Takes CFL, metal halide or HPS lamps
Simultaneous up/down configuration is optional
Can act as an emergency light for 90 minutes when EM option is selected (CFL only)