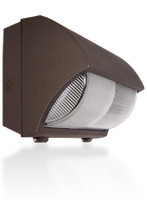 WP119EX Series Semi Cutoff Wall Pack
Product Description
The large die cast aluminum semi cutoff Wall Pack is built from a heavy duty, die-cast aluminum housing with a bronze powder coated finish. The lamp is protected with a borosilicate glass refractor that is highly resistant to impact and extreme heat. This wallpack unit itself has an internal anodized aluminum reflector which is designed for maximum light distribution. It's also UL Listed for Wet Locations with the enclosure fully sealed and gasketed.
The WP119EX Series can be used with a medium base, glazed porcealain socket using High Pressure Sodium, Metal Halide, or Pulse Start Metal Halide lamps.
This unit can be mounted to any vertical surface and utilizes a hinged design for easy access to changable internal parts. This can be wired to a 4" junction box.
KEY FEATURES
UL Listed for Outdoor Use
High Pressure Sodium, Metal Halide, or Pulse Start Metal Halide Lamps
Anodized Aluminum Relectors for maximum and even light distribuation
Durable Borosilicate Glass Refractors that are High-Impact and Highly Heat Resistant protect the lamp