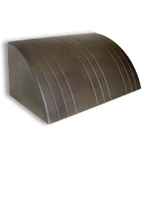 WP120 Series Full Cutoff Wall Pack
Product Description
Our die cast aluminum full cutoff wall packs have an appealing, curved cast aluminum housing that blends effortlessly into any exterior building. The housing and tempered glass lens are fully gasketed and sealed to prevent water intrusion and the housing is powder coated with an architectural bronze finish that is highly resistant to corrosion.
The WP120 wallpack has an internal aluminized reflector that distributes light evenly in one direction, while the full-cutoff design prevents stray light and light pollution.
The Dark Sky compliant die cast aluminum full cutoff wall pack has many appealing options as well including a photocontrol cell that automatically toggles the wall pack on and off in synch with the rise/set of the sun. An emergency ballast can also be added when you choose CFL lamps, allowing the light to continue lighting for 90 minutes during an extended power failure.
UL Listed for Wet Locations
Dark Sky Compliant full cutoff design
Takes CFL, metal halide or HPS lamps
Attractive curved cast aluminum housing and tempered glass lens
Can act as an emergency light for 90 minutes when EM option is selected (CFL only)