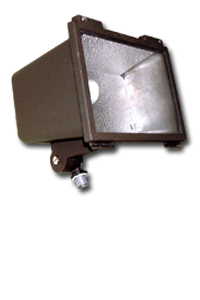 32W CFL Small Flood Light
Overview
Our 32W CFL small flood lights are constructed with a die-cast aluminum enclosure that is applied with an architectural bronze powder coating finish, which protects it from corrosion in outdoor environments. The WP201-CF-32-120/277 has a dual tap 120 or 270-volt AC input that hooks up to most outdoor lighting grids. It features a 1/2" NPT threaded adjustable knuckle that mounts to any post fitter or ground stake.
The 32W CFL small flood light features a hinged aluminum lens frame assembly which can be opened easily by unscrewing the stainless steel captive fasteners. The lens assembly has a glued-in rubber gasket which ensures a hermetic seal over the 4-pin 32-watt triple tube CFL, ballast, capacitors and aluminum reflector.
The incredibly popular WP201-CF-32-120/277 can be ordered anytime 24/7 by phoning the WallPack guys at 800-839-4734. To ask a technical question, generate a quote or invoices, please contact our production staff.
Key Features
Start ballast rated at -20°C (-4°F)
CSA Approved for Wet Locations
32-watt 4-pin triple tube compact fluorescent lamp included
Watertight and weatherproof outdoor lighting
Light shipping weight
Buy America option available
Electrical Options
Double-tap input - 120 or 277VAC 50/60 Hz
Mounting Options
Ground stake
Post top fitter
Options
Please call 800-839-4734 to ensure option availability.
Photocontrol Photocell - automatically switches the unit on when the ambient light reaches a certain level during sunset. Select 120V or 277V photocontrol.
Reflector - select IES Type 5, forward throw or wide-angle reflectors.
Wire Guard - adds extra lens protection from vandalism.
Glare Shield - greatly reduces light pollution or accidental blinding to personnel.
Polycarbonate Guard - clear extra layer of waterproof protection for your floodlight.
Buy America - select this option if you like America and would like to keep manufacturing jobs in the USA.