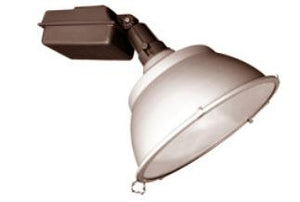 1000W Metal Halide Sportslighter Flood Light
Overview
The 1000W PSMH metal halide sportslighter flood light is one of our most popular units in cities througout North America and is ideal for outbuildings, arenas, parks, sports fields, sign illumination, and other areas where general floodlighting is necessary. In addition, Pulse start metal halide lamps are more radiant than many LED models, and electricity consumption is less.
Our 1000W PSMH sportslighter lights are corrosion-resistant built with die-cast aluminum housing along with a bronze balast enclosure, which is fully sealed and gasketed. The 1000 watt lamp uses a mogul based, glazed porcelain socket pulse rated for 4KV. It also features  tempered glass lens that is high-impact protected and heat-resistant.
Sounds good? Then give us a call anytime at 800-839-4734 to get your project back on track. You may also obtain a quote or invoice by emailing our sales staff.
Key Features
CWA ballast rated at -30°C (-22°F)
CSA Approved
Standard 19'' spun aluminum reflector
Completely watertight and weatherproof
Tool-free lamp maintenance
Buy America option available
Electrical Specification
Multi-tap - 120/208/240/277VAC
480VAC
Mounting
Top Pole Mount
Large Handle Yoke
Options
Please call 800-839-4734 to ensure option availability.
Tempered Glass Lens - select tempered glass lens instead of borosilicate.
Single or Double Line Fuse - specify if you want a single fuse (120 or 277V) or double line fuse (208, 240 or 480V).
Buy America - selecting this option ensures your light was manufactured by American workers and supports US business.