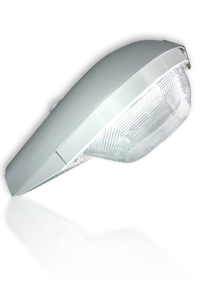 150W HPS Roadway Light
Overview
The 150W HPS roadway light has a fully enclosed, corrosion-resistant cast aluminum housing which is powder coated with a light grey finish. Our WP603-HPS-150 model features a borosilicate glass lens (also available in tempered glass) which protects the high pressure sodium vapor lamps and components inside. It uses a multi-tap (120/208/240/277VAC) input that consumes 150W of AC electricity.
These popular 150W HPS roadway lights offer unparalleled resilience to weather and direct sunlight. Re-lamping of the WP603-HPS-150 is accomplished without the use of tools. Just detach the stainless steel clasp on the hinged lens assembly to access the 4KV mogul ceramic socket and reflector.
Get the  WP603-HPS-150 by calling the Wall Pack pros at 800-839-4734. If you have other inquiries or want to generate an invoice, order quote, please email our sales staff.
Key Features
CWA ballast rated at -30°C (-22°F)
CSA Approved
HPS lamps consume only 150-watts
Buy America option available
Electrical Specification
Multi-tap - 120/208/240/277VAC
480VAC
Mounting
Options
Please call 800-839-4734 to ensure option availability.
Photocontrol Photocell - twist lock receptacle that accommodates photocell activator. Select 120V or 208-277V photocontrol.
Tempered Glass Lens - choose a tempered glass lens instead of borosilicate.
Single or Double Line Fuse - specify if you want a single fuse (120 or 277V) or double line fuse (208, 240 or 480V).
Buy America - selecting this option ensures your light was manufactured by American workers and supports US business.