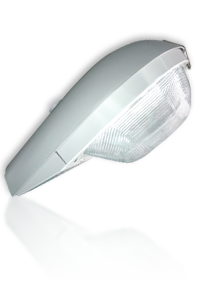 250W HPS Roadway Light
Overview
Our extremely popular 250W HPS roadway lights are used extensively as traffic lights in most North American cities. High pressure sodium vapor lamps are still preferred by certain municipalities because the illumination they produce still beats out many LED models, though the WP603-HPS-250 consumes a little more electricity.
The 250W HPS roadway light is constructed with a die-cast aluminum enclosure and given a gray powder coat finish that is highly resistant to weather and corrosion. The gasketed borosilicate dome lens protects the lamp inside and creates a hermetic seal around the electronic components. The 250-watt HPS lamps fit into a glazed porcelain socket inside, rated at 4KV and has an efficient CWA-type ballast. 
Ready to purchase your WP603-HPS-250? Give us a call at 800-839-4734 to get your project on the right track. You can also reach us by emailing our sales staff.
Key Features
CWA ballast rated at -30°C (-22°F)
CSA Approved
HPS lamps included
Completely watertight and weatherproof
Tool-free lamp maintenance
Buy America option available
Electrical Specification
Multi-tap - 120/208/240/277VAC
480VAC
Mounting
Options
Please call 800-839-4734 to ensure option availability.
Photocontrol Photocell - this option installs a twist lock receptacle which accommodates photocell activator. Select 120V or 208-277V photocontrol.
Tempered Glass Lens - select tempered glass lens instead of borosilicate.
Single or Double Line Fuse - specify if you want a single fuse (120 or 277V) or double line fuse (208, 240 or 480V).
Buy America - selecting this option ensures your light was manufactured by American workers and supports US business.