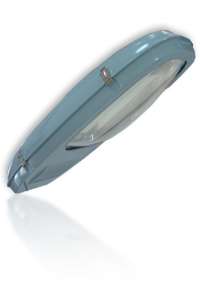 120W Induction Roadway Light
Overview
The 120W induction roadway light is the most efficient induction traffic light in our WP606 HID series. It sports a very durable and corrosion-protected cast aluminum housing and ballast tray that is powder coated with a smooth gray finish. The WP606-IND-120 features a hinged lens assembly fastened by tool-free stainless steel clips which allow replacement of the induction lamps.
Our 120W induction roadway lights have a specular aluminum reflector and a molded sag glass lens that has a high impact tolerance. The whole light is a completely waterproof enclosure, protecting the rectangular 120-watt induction lamps inside. The WP606-IND-120 uses a 120W electronic ballast that has an integrated circuit (IC) chip which allows the light to power up to 99% capacity.
Order the WP606-IND-120 by calling our toll-free number at 800-839-4734. For further inquiries to generate an invoice/bulk order quote, don't hesitate to send an email our sales staff.
Key Features
Operates in temperatures between -22° F & 122°F
CSA Approved
Induction lamps last up to 100,000 hours!
Tool-less access clips
Buy America option available
Meets Electromagnetic Capability (EMC) Standard
Electrical Specification
Dual tap - 120/277VAC
Multi-tap - 120/208/240/277VAC
480VAC
Luminous Flux
Compliance
CE
FCC
UL
ISO
EMC Standards
Mounting
2-3/8 diameter mounting arm
Options
Please call 800-839-4734 to ensure option availability.
Buy America - selecting this option ensures your light was manufactured by American workers and supports US business.