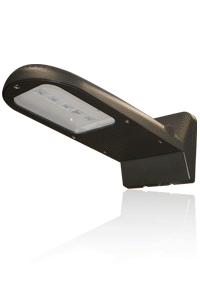 WPLED-I Series Architectural Wall Pack
The WPLED-I-10-DT architectural wall pack has a compact and architectural design that makes it one of the most popular wallpack LED Lights that we offer. Consuming very little energy and providing a longer life span compared to older lamp technologies, it can be used for schools, offices, commercial establishments, apartments, and recreational facilities.
Designed to be easily mounted on a 3" or 4" junction box for quick installation, the EZ-LITE quick mounting system makes the LED Inspire one of the most contractor friendly wallpacks in the market today.
It is made from a molded die cast aluminum and with a UV resistant bronze coating finish. Being that it's UL Listed for Wet Location use, the fixture is completely sealed and gasketed and also is able to operate in -30°c to 40°c conditions. Along with a tamper resistant design, it is also ideal for outdoor use.
Operating from 120-277V 50/60Hz and an auto-ranging voltage controlled circuit, the LEDs last an average of over 60,000 hours. This model is equipped with 10-watt LED light. It's optical system ranges from 5, 10, or 15 LED configurations with each LED positioned to give maximum light distribution and minimizing glare and light pollution.
Key Features
Lumens output: 729
Lumens/Watt: 73
Nominal LED Wattage: 10W
Photocontrol options available
EZ-LITE system for quick installation
LM-79 and LM-80 evaluation
UL Listed for Wet Location
5 year warranty