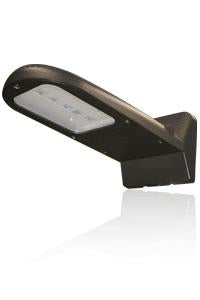 20W Architectural LED Wall Pack
Overview
The 20W LED architectural wall pack is an incredibly efficient, 21st century wall fixture. It blends a high performance light source with an appealing style. This light is a favorite among contractors looking to do new or refit construction projects.
Like all wall packs the TLED-I will not corrode or rust in wet weather. They are fully gasketed to prevent moisture from affecting the internal electronic components.
One of the best things about this LED wallpack is that no harmful or carcinogenic chemicals were used in the construction or components during the fabrication of this light. The TLED-I is a completely safe light to put in your home, school or playground where children are present. You'll also be secure in the fact that nearly the entire unit can be recycled after it expires.
Key Features
LEDs use only 20W of AC electrical power
Lumen output: 1310
Lumens/Watt: 66
UL Listed for wet locations across the U.S.
Can survive temperatures as low as -22° F
RoHS compliant
Evaluated in accordance with LM-79 and LM-80 documents
5-year warranty
Buy America Certificate 
Applications
These architectural wall fixtures have a gasket sealed steel mounting plate which allows for easy installation to any 3" or 4" junction box. Two corrosion resistant, stainless steel allen-head steel screws are recessed into the bottom of the mounting canopy, securing the unit to the j-box.
20-watt LED wall packs can also be pole mounted using a pole bracket assembly. These poles are typically 4" square or round poles, which can accommodate up to four units. 
External Specification
20W wall luminaries are constructed from precision molded die-cast aluminum housing with a removable hinged access hatch. All gaps in the housing, including the hatch, have been fully gasketed to prevent leakage of rain or humid weather. 
These fixtures have heat fins on the top which have a 5% slope to allow water runoff. Torx head captive screws provide tamper-free lockdown of the unit to prevent vandalism.
Internal Specification
The optical system on this light provides 4700K color with a CRI of 85. 30 W models use precision optic lenses to provide forward throw and wide throw of its lighting cone. Each LED is positioned in the center of the light engine, which reduces stray glare and light pollution.
The LED drivers are connected to an aluminum LEDLITElogic heat sink that diverts heat from the diodes, giving LED wall packs their low UV output and cool running temperature. This also allows the diode array to last for over 50,000 hours before replacements are needed.
Electrical Specification
WP20-LED models operate at a a range of 120-277V, 50/60Hz. They have a two (2) wire input and can operate in temperatures from -90° F to 110° F.
Options
Photocontrol Photocell - Sensor detects sunrise and sunset and automatically activates the light accordingly. At checkout:
Select 'PC1' for 120V photocontrol. 
Select 'PC2' for 208-277V photocontrol.